Ronaldo Martinez tells his story in New York city (in english and in spanish) with 4 different TV ads, radio ads and billboards.
WATCH 1 (I could not find them on YouTube)
Andrew Tucker ([email protected])
Sara Markt ([email protected])
HEALTH DEPARTMENT OFFERING NICOTINE REPLACEMENT TO NEW YORK CITY SMOKERS WHO CALL 311 BEFORE MAY 15th

New Multimedia Campaign Features Patches, Gum, and a Message from Famed Quitter Ronaldo Martinez




NEW YORK CITY – April 25, 2007 – The Health Department today unveiled a two-pronged effort to help smokers quit. From now through May 15, the Health Department will offer nicotine replacement at no cost to smokers who request it through 311. This year's offer includes nicotine gum as well as patches. The Health Department is also launching a multimedia advertising campaign featuring Ronaldo Martinez, a former smoker who lost his voice to throat cancer at age 39.
"Nine out 10 smokers want to quit, but quitting can be tough," said Health Commissioner Dr. Thomas R. Frieden. "Most New Yorkers who ever smoked have already quit. For those who are still smoking, a nicotine patch or gum can double your chances of quitting for good. New Yorkers who want help quitting should call 311 today."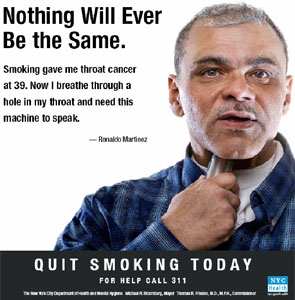 Smoking remains the leading preventable cause of death in New York City. Cigarettes kill 9,000 New Yorkers a year—more than 25 every day—and more than 1 million people still smoke.
In the new advertising campaign launched today—which includes an interactive internet component—Mr. Martinez recounts how much he has suffered from smoking. He developed throat cancer at 39, and now breathes through a hole in the front of his neck and can only speak through a mechanical device. The campaign features Mr. Martinez speaking in amplified vibrations from his throat to produce monotone speech. The tagline: Nothing Will Ever Be the Same.
The ads will run on television and radio, as well as in subways, check cashing outlets and on payphone kiosks in English and Spanish. Internet ads will allow people to email an audio message in Mr. Martinez's voice to friends and loved ones to encourage them to quit. This feature, along with other components of the campaign, is accessible at nyc.gov/health.
"Mr. Martinez's powerful story shows us that the effects of smoking can be painful and disabling," said Dr. Frieden. "His honesty about how smoking has changed his life forever has already inspired many people to quit."